Tips for Filming in Chicago's McCormick Place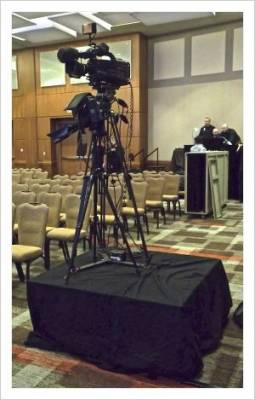 Tips for Filming in Chicago's McCormick Place
I have filmed dozens of video jobs in McCormick Place and it is very important to know the rules regarding the union. In fact, I have turned down a few assignments and offered advice as to what union sanctioned companies to call. However, if you do not need to plug electric cables into wall outlets, don't need to take a feed from the audio board in a main ballroom, don't need to use a four wheel cart, don't need to unload at the loading dock,I probably can do your shoot.I have a special permit from the Metropolitan Pier & Exposition Authority as an Exhibitor Approved Contractor and am allowed to work within guidelines such as being 100% battery powered, etc.
There's a few tricks I've learned to make things go smoothly, for instance park at the attached Hyatt's garage even when it says the garage is full. I've done conventions, trade shows, meetings, break outs and seminars and it's important to understand the distances involved.
For filming distant speakers and concerts the venue will provide camera risers but theyshake! I have crafted a custom made camera platform riser with a center support which makes it much more stable:
McCormick Place can be a great experience if the pre-production planning lays the ground work to avoid any issues.