What To Wear For Your Video Shoot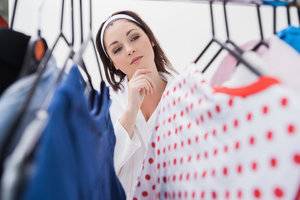 What To Wear For Your Video Shoot
Colors:Video loves solid colors and it's best to avoid large areas of white or black. Please avoid all white dress shirts and blouses. Darker clothes have a slimming effect and it's advisable to avoid bold patterns, we want the viewer to pay attention to what you're saying not what you're wearing. If in doubt it's OK to bring a second option, especially with ties.
Patterns:Tight patterns such as pin stripes, herringbone, corduroy, hounds tooth and narrow checks create an unattractive busy pattern on the screen. And definitely no logos besides the clothing manufacturer.

V-Neck clothing has a slimming effect.

Jewelry:Please avoid bold, larger piece jewelry. We may need you to remove a necklace that creates noise to the nearby microphone. Some pieces may reflect our lights. If you bring options we can choose what's best for the situation.
Eyeglasses:If everyone who knows you always sees you wearing glasses then by all means keep them on. However, if you don't need them all the time it will make the filming go a little quicker if you don't have glasses on.
Powder:The crew will have some basic powder to reduce facial glow but if you are allergic please bring your own.
Spares:If we will be filming during a hot, humid summer day it may be best to bring a spare top.
Don't stress too much about it. We're here to make you look your best!