Filming Live Corporate Events in Swank Chicago Hotels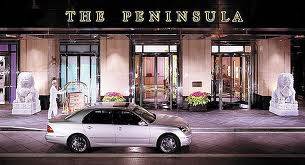 Filming Live Corporate Events in Swank Chicago Hotels
Chicago is a great convention destination and a good portion of my work is filming conferences, tradeshows, meetings, speeches, etc. that are hosted at upscale venues.
Many fancy hotels, such as the Peninsula, do not care for "the video crew" to unload gear at the front door and will immediately stop us from entering and tell us to go to the loading dock, which can lose us 45 minutes. My work around is to pack as much equipment as possible in large suitcases. When I pull up I have the bellman load his cart with ordinary suitcases, back packs and mix in my professional looking cases. I do not use my tradesmen looking equipment cart. Also, I dress in nice business casual so I won't get pegged as "the video guy". I'm a good tipper which will be reflected on my invoice to you!
If hotel management learns that a "video crew" will be coming, usually through the catering or sales department, they may demand a Certificate of Insurance covering $4,000,000 just to film in their building. Professional videographers such as myself normally have insurance coverage up to $1,000,000.
Hotel management assumes a video crew to be a large endeavor that will increase their liability. I tell my clients to say it's "just the videographer and his assistant", or refer to me as "a photographer". That does the trick.
Many downtown hotels are controlled by the union so getting an audio feed from their sound board requires some diplomatic pre-production on my part. I have worked with the major AV companies that service the better hotels and it's important that I get my audio feed, tape down the cables and test the sound volume level very early in the day when they do not have their hands full. This may mean I need to arrive many hours before the actual event begins that I am to film.
I have experience filming in all the major hotels and can help you capture the moment and ease the stress of your exciting event.